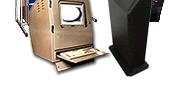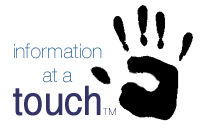 Dymatec have designed and built a range of Kiosks for organisations that require design excellence in their public access computer solutions.

Our designs are innovative yet robust and come with pre-installed computer hardware to your specification.

Dymatec also offer a custom design solution if you have particular requirements. Whatever your application - Kiosks , Information Kiosks , Broadband Kiosks , Net Kiosks , Interactive Multimedia Internet Terminals, Public-Access Kiosks, Self-Service Kiosk we can design a solution for you.
DymaPort
The Dymaport is a very smart smooth and streamline kiosk. It is designed to go anywhere but because of its stylish looks it is aimed for public use, such as a shopping centres, hospitals, or in a factory.
DymaDesk
This is the newest member to our kiosk production line. This kiosk is wheelchair accessible. This is designed for public places.
DymaHub
More robust than the DymaPort. Built as two separate welded frame construction casings, which fix onto of each other. Because of its robust design it is aimed towards the logistic/warehouse environment.
DymaPod
One of the latest in new designs, this is more suited to public places. This kiosk has access for wheel chair users, a necessity for a hospital or a shopping centre.
DymaRack
Biggest and bulkiest kiosk, aimed at the logistic/warehouse environment because of its build, it is easy to use.
Broadband Kiosk
Similar in design to the DymaPod, the Broadband Kiosk is broadband compatible.