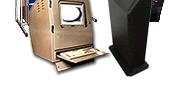 We have put together this page so that we can answer some of the questions that we are most commonly asked. If there are any questions which are not answered here please feel free to contact us and we will get back to you with a reply as soon as possible.
Question: Can we put PCs on the factory floor the same as those we have in the office - they are convenient, compatible, and obtainable at good prices?

Answer: Yes you can. Its exactly why the Comcover was conceived.

Question: Why bother with a Comcover? We can replace the PC if it gets damaged.

Answer: Of course you could, but what about loss of data, the time for an engineer to fix it, and the loss of production. The task of a Comcover is to protect the function of the PC and the data it holds.

Question: Industrial PCs and PCs in a Comcover, what is the difference?

Answer: In general there is no vast difference in the electronics, it is the packaging which make it industrial. A Comcover is the packaging and when supplied separately allows you to install or upgrade your own PCs.

Question: Will the PCs warranty be affected by a Comcover?

Answer: No, but an unshielded PC in an inappropriate environment may do!

Question: What about maintenance?

Answer: Maintenance on a bespoke industrial PC may be difficult to obtain .In many cases only the supplier can provide the support. Any computer maintenance company will be able to give you cover of a standard PC in a Comcover.

Question: Our biggest concern is security of PCs. What can Dymatec offer?

Answer: Complete encasement of a PC is a most effective method to help prevent and deter theft. We have a range of Comcase security enclosures which can mimimise the risk of loss.

Question: What is involved with installation?

Answer: Very little! Comcover includes fans, filters and mains wiring and arrives ready to use. A PC can be fitted in minutes without modification or additional parts.